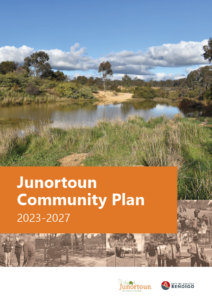 A new community plan for Junortoun has been launched
The Junortoun Community Action Group is proud to release the 2023-2027 Junortoun Community Plan.
Community plans
The Junortoun Community Plan contains 65 projects and 12 priority actions which JCAG will pursue to improve the wellbeing of residents and the liveability of Junortoun.
Community Plans are recognised by local government, and state and federal government agencies (such as RRV and PTV) and other organisations such as schools and sporting clubs.
The Junortoun Community Action Group (JCAG) has responsibility for developing and implementing community plans for Junortoun.
JCAG has previously produced two community plans for the community of Junortoun (available below).
Current plan (2023-2027)
Junortoun Community Plan 2023-2027
Previous plans
Junortoun Community Plan 2017-2022
Junortoun Community Plan 2013-2015 and